L. Joseph Conway, class '46
In Memoriam
Mar 4, 2014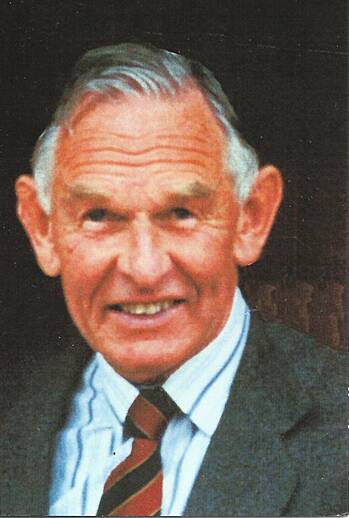 The Union was saddened to hear of the passing of Laurence Joseph Conway, class '46.
The death has occurred of Dr. Joseph (Joe) CONWAY
Goatstown, Dublin / Wicklow
Formerly of Wicklow, peacefully at home; beloved husband of Miriam and loving father of Stephen, John, Annmarie and Joe; deeply missed by his family, sister Sylvia, sister-in-law, daughters-in-law, son-in-law, his cherished and much loved grandchildren, nieces and nephews, relatives and friends. 

Funeral Mass on Friday morning at 10am in the Church of St. Laurence O'Toole, Kilmacud followed by private cremation. No flowers please.
Date of Death: Tuesday 4th March 2014
---
Joe came to us in 1942 following in the illustrious footsteps of his uncle Joseph Coghlan, class '17, a member of the 1915 JCT, who were the first to bring that trophy back to Knock, and of the 1916 SCT who were beaten finalists. Joe spent four happy years here and was a pillar of the 1943 JCT in his first year, but alas was injured and badly missed when they lost their opening round tie to Belvo. He also made the 1946 SCT.
Academically per his 1944 Intermediate results it was honours across the board bar a "pass in Science" and that was certainly to change for the 1969 Chronicle reports:
Joe qualified as a doctor at the College of Surgeons in 1952. In the Final Exam, he obtained First Place and Gold Medal in Obstetrics and Gynaecology, and First Place and Silver Medal in Medicine. Whilst doing post-graduate degrees he worked for six years in St. Lawrence's Hospital and Holles St. in Dublin and Alderhey Children's Hospital in Liverpool. He then went into practice with his mother in Wicklow and was appointed permanent Medical Officer in Wicklow District Hospital, a post he later resigned as he built up his multi-partner practice. Not content with that Joe is also active with the Conquer Cancer Campaign and does some lecturing on this subject and also gives a helping hand to the Pre-marriage Counselling Courses.

Being a very useful golfer, handicap nine, last year he was elected Captain of Wicklow Golf Club, home to the weekly Knock foursome of Joe, Jack Toner. Tom Delahunt and Larry Cullen.
In latter years having forsaken golf Joe turned his attention to travelling and gardening and as regards the latter his two acre landscape was not your average retirement challenge. Travel enabled him to catch up with Knock lifelong friends, most notably Brian Devlin and a trip down below to Dr. John Lagan at his world famous Xanadu vineyard in Australia.
Joe married Miriam O'Donnell and they were blessed with a daughter Annemarie and three sons, and then paid us the ultimate honour in entrusting us with the education of the sons: Stephen, class '79; John, class '80 and Joseph, class '85. Joe was crystal clear that they were fourth generation Knock as his grandfather Joe Coghlan had also attended but was one of those rare omissions not recorded in the 1935 Centenary Roll. As a final tribute to him, we shall endeavour to locate the attendance record of Joe Coghlan Snr. and return him to his rightful place on the College Roll.
Joe's was a life well lived, but still a loss is suffered by his family and to them we extend our heartfelt condolences.
Requiescat in Pace