Michael O'Byrne, class '51
In Memoriam
Feb 28, 2017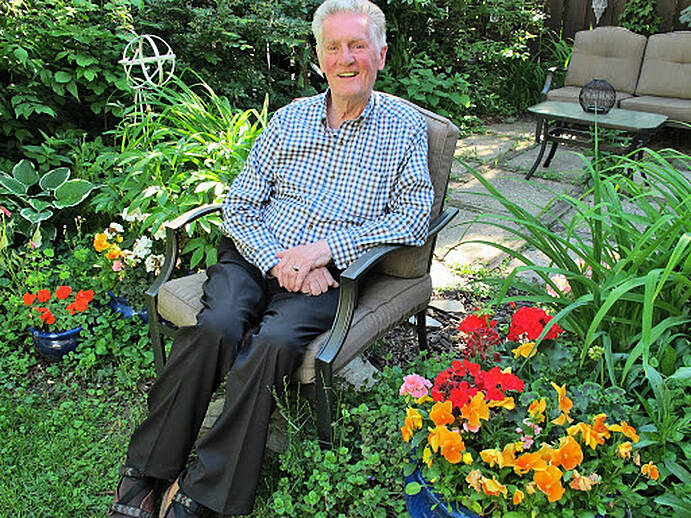 -
The Union is sad to report the passing of Michael O'Byrne, class '51.
The death has occurred of Michael O'BYRNE
Edmonton, Canada
February 24th, 2017, surrounded by his family, Michael O'Byrne, passed away peacefully at the age of 84. He was predeceased by his loving wife, Peggy, in 2001, and survived by his son Simon and his wife Lianna, his daughter, Catherine O'Byrne-Slade and her husband Shane, and four grandchildren.

A Funeral Mass will be celebrated at 11:00 a.m. on Saturday, March 4th, 2017, at St. Joseph's Basilica, 10044-113 Street, Edmonton.
Date of Death: Friday 24th February 2017
---
Michael was the youngest of three brothers at Knock during the 'war years' and the last surviving for Paddy (class '48) died 4 December 2013 and John (class'49) on the 11 February 2017, so just two short weeks before Michael.
The 2003 Chronicle reported on a mini-'Knock reunion that took place in August of that year in Calgary, Alberta, when Fr. Sam Clyne ('51) was 'the recuperative guest' of Danno O'Neill ('51) and was royally entertained by amongst others Michael O'Byme ('51). Gracious hospitality, friendship and well-stocked memories and wine cellar prompted most interesting and enjoyable reminisces of what were, undoubtedly, some of the 'golden times' in Knock and the report concluded with -
Listening to Michael speak about his late wife was a most moving testimony of their happiness together. His love for his children and their spouses shines through the story of his life and helps to alleviate some of the loss caused by Peggy's death.
We have come full circle for Simon and Catherine's love of their father is manifestly evident from their below tribute -
On February 24th, 2017, surrounded by his family, our wonderful Dad, Michael O'Byrne, passed away peacefully at the age of 84. He was predeceased by our dear Mum and his loving wife, Peggy, in 2001. Our Dad will be forever in our family's hearts and that of numerous relatives and friends.

Dad grew up in Ballyboden, Dublin County, Ireland. He matriculated from Castleknock College and then moved to London where he spent much of the next decade accumulating many tales in the hospitality industry in London, France, Germany, Switzerland, and the British Merchant Marines. While in the latter he sailed multiple times around the world and had some unspeakable adventures in countless cities.

Following that he met the love of his life, whom he married, Peggy Russell. They met in what was 'The Hoop,' an Irish bar in Notting Hill Gate, London. They worked in the telephone exchange and as domestic servants to make ends meet while Dad pursued his studies.

Michael went to Lincoln's Inn for law where he famously lit Princess Margaret's cigarette at his graduation. He then started his legal career as a Crown Prosecutor in London, before emigrating to Canada to do the same. Juxtaposed with the English class system that sometimes discriminated against the Irish, in Canada he found a meritocracy in then booming Alberta in the mid-1970s. Within moments of arriving Dad quickly fell in love with Canada and never for a moment looked back over his shoulder.

In terms of his immense love of sports, this translated into switching from being a passionate Arsenal fan to an Edmonton Oilers (hockey) fan, and from a rugby fan to an Edmonton Eskimos (North American football) fan. Our Dad attended almost every Eskimos home game between the early 1980s and until recent years when he wasn't as physically up to attending.

While many would know Michael for his days as a colourful criminal Barrister and Justice of the Peace, his other great passion was music. Michael sung in the Edmonton Opera Chorus, Edmonton Light Opera Ensemble and to almost anybody that he encountered in his life. This included singing to the staff and patients at the Grandview Rehabilitation Hospital where he volunteered nearly full-time in the decade that followed his retirement.

Dad cherished family time together and certainly looked forward to breaking bread at a weekly family meal; brunch was his favourite. He greatly appreciated the fact that all of our families got along so well and we thought of each other so fondly. It is a promise that we continue to love and take care of one another after his passing.

He will be remembered for having a love of life, tremendous sense of humour, and as one who found constant joy in other people.
Requiescat in Pace.