Paul Gallagher, class '59
In Memoriam
Feb 15, 2017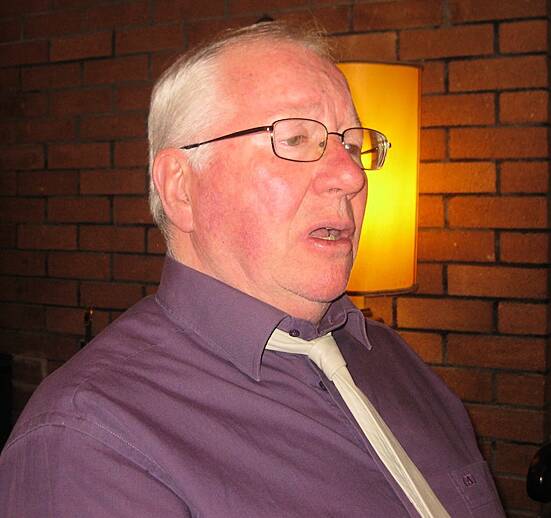 -
The Union was saddened to hear of the passing of Paul Gallagher, class '59.
The death has occurred of Paul GALLAGHER
Omagh, late of Strabane
GALLAGHER (Omagh) February 15, 2017 Paul R.I.P. 3 Dergmoney Place, devoted husband of Maura and proud father of Philip and Sean, dear brother of Billy, Richard, Catherine (Bethancourt), Susie (Wynne), predeceased Elizabeth (McColgan).

Funeral on Saturday following 10.00am Requiem Mass in the Sacred Heart Church with interment in Drumragh.

Deeply regretted by his sorrowing wife, sons, daughters-in-law Ruth and Alison, grandchildren Sean, Mark, Ruby, Roise and Grace.

On his soul sweet Jesus have mercy.
Date of Death: Wednesday 15th February 2017
---
The sudden and untimely death of Paul Gallagher on February 15 occasioned a great sense of shock to his family, friends and associates in his adoptive town of Omagh, in his native Strabane and throughout West Tyrone. Paul had been about his business on that fateful day and had left colleagues that afternoon. Later in the evening he retired to his study to read, or write, where he was discovered to have passed away, suddenly and peacefully, shortly after ten o'clock.
Paul was born in Strabane in 1941 and died a few weeks short of his 76th birthday. His family were prominent in the textile industry in the North West, with factories in Strabane and Lifford and in 1948 established the Omagh Shirt and Collar Factory on the Kevlin Road, operating from the 1950s, in association with the prestigious Austin Reed shirtmakers, based in London. The factory was later acquired by Desmond Brothers and the site is currently being developed for a cinema complex.
Paul received his early schooling at Barrack Street Primary School and went on to his second-level education at Castleknock College, near Dublin. He might have gone into the family business, but instead chose a career in banking with what was then the Munster and Leinster Bank. His first posting was in Derry and it was in that city where he met and subsequently married the former Miss Maura Kelly, in 1976. It was about that time the couple moved to Omagh, to where Paul was transferred to the local branch of what had by then become the Allied Irish Bank. They set up home in Arleston Road and later moved to the family home at Dergmoney Place, off the Dublin Road.
Paul Gallagher was ever a gregarious and sociable man. He quickly adapted to his new town of Omagh, as Omagh quickly took him to its heart. He gave generously of his time, his talents and his energies to many local charitable, cultural, political and sporting organisations in Omagh, in his endeavour to make the world around him a better place. Over the years he was a stalwart of PACE, Protestant and Catholic Encounter which sought to further cross-community and interfaith relations in the town. His charismatic presence was employed by various local theatre groups and he performed a variety of roles for the Omagh Players. Theatrical skills were also engaged when Paul revived the traditional entertainment of the Christmas Rymers or Mummers and translated it into an urban context, with his troupe of strolling players touring the Omagh watering holes on the run-up to Christmas and collecting donations from generous pub patrons. He also brought concert parties to local hospitals and nursing homes.
Paul Gallagher had a lifelong interest in poetry. He was frequently called upon to recite such Percy French classics as 'The Four Farrelly's' and 'Queen Victoria's After Dinner Speech', as well as Edward Lear's 'The Owl and the Pussycat, which was recited at his Funeral Mass. He was an accomplished poet, his works receiving commendation at the Annual Bard of Armagh awards ceremonies. He was an officer of the Omagh-based 'Open Door' poetry group, who included his works in their anthologies of poems by local writers.
Paul Gallagher was a close associate of Surgeon John Robb of Ballymoney, the founder of the New Ireland Group. Happily still with us, John Robb is the heir to the liberal Presbyterian tradition which goes back to the United Irishmen. The New Ireland Group is not a political party, but rather a think-tank which provides a platform through its conferences and pamphlets for radical insights into new approaches to the stances of the two main traditions in our society. Paul's political allegiance was to the Alliance Party, with whom he was a local activist for many years.
He served last year as president of the local Probus group, the association for retired professional and business men and had contributed to a meeting of that group on the morning of the day of his passing.
His sporting interests embraced Cricket and Rugby since his college days, and Gaelic football and tennis since. He was a principal fundraiser for the development of the local tennis courts at the Campsie-Crevenagh Road corner. He also enjoyed a flutter on the horses.
Paul Gallagher was always an affable, droll and humorous gentleman with a keen eye for the absurd and a good man to meet in a pub. He is survived by Maura and by his sons Sean and Philip. His passing has left a great gap and he will be sorely missed.
S McK (as published in the Ulster Herald)