Richard (Dick) Brady, class '56
In Memoriam
Jun 20, 2016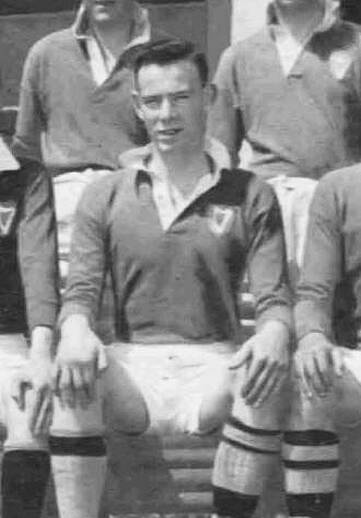 1955-56 Inter-pro, Dick Brady
The Union is saddened to learn of the passing of Dick Brady, class '56
The death has occurred of Richard (Dick) BRADY
Tatestown Lodge, Navan, Meath
Sadly missed by his loving wife Eithne, daughter Catherine, sons John, Peter, Philip, and Brian, grandchildren, brother Tony, daughters-in-law, son-in-law, sisters-in-law, brothers-in-law, nieces, nephews, relatives and friends.

Reposing at his residence on Tuesday from 5pm to 8pm. Removal on Wednesday morning at 10.15am to St. Catherine's Church, Oristown arriving for Funeral Mass at 11am. Burial afterwards in Gibbstown Cemetery. House Private on Wednesday morning. Family flowers only Please.
Date Published: Monday 20th June 2016                                  Date of Death: Monday 20th June 2016
---
Dick came to us in 1950 following in the footsteps of his brothers Tony, class '54 and David, class '47. Their father Richard, class '11 hailed from Greenfield, Maynooth and was the middle brother of five at Knock alongside Kevin, class '05; Charles, class '10; Philip, class '20 and Gerald, class '26.
Dick was Head Prefect in his final year and excelled every year up to that on the rugby pitch. It was his life long passion.
He was Vice-Captain of the 1952-53 JCT that progressed all the way to final but beaten by Rock. He made the SCT the following year, even though only in fourth year, but injury in the second minute of a warm up game against Methody put paid to his season. He returned in the 1954-55 season as hooker for the team that again made it to the final only to be beaten once more by Rock. Hopes were high for the 1955-56 SCT as Dick was one of nine players available from last years finalists, but the best laid plans - they were beaten by Newbridge in the 2nd round - but recognition still followed for seven of the team including Dick were awarded Leinster caps.
Family was also important to Dick and he chose wisely when he married Eithne Ward whose four brothers were the third of four generations at Knock. The Brady's are also related to the Crinion, McNamara & Duff families so they have deep ties with the College.
The 1977 Chronicle reports -
Dick is a keen rugby fan. He played with Lansdowne for four years on leaving Castleknock. In 1963 he began to play for Navan, won three Provincial Town Cup medals and was Captain in 1966 and 1967. He has now started to coach several teams in Navan. Dick takes a special interest in the development of junior players and two of his sons are on the under eleven team which has been very successful over the past two seasons. Like father, like sons!
Dick and Eithne had fours sons and not surprisingly sent all to Knock: John, class '83; Peter, class '84; Philip, class '86 and Brian, class '91.
John and Peter both captained their respective JCT and played two seasons SCT, packing down together for the 1982-83 SCT who once again were beaten finalists. Both exited at the 2nd round for their other SCT season but not before Peter picked up a Leinster cap. Philip packed down for the 1985-86 SCT who also exited at the 2nd round and Brian captained the 1990-91 2nd XV. Seems like it's 2nd round or finals only for the Brady's. Like father, like sons indeed.
Dick was just as proud with the haul of four Gold Medals taken home by his younger sons Philip and Brian. Whilst his reputation with Navan RFC is legendary, perhaps what's less well known was his holistic approach to education that valued both sporting and academic endeavour. The College were beneficiaries of this well thought out philosophy during the course of his nine year term on the Board of Governors, and we will be forever grateful for it.
A great man has gone to his eternal reward. We send our heartfelt condolences to the sons John, Peter, Philip, and Brian, daughter Catherine and most especially to Eithne who has lost a loving husband so soon after the passing of her brother Pat.
Requiescat in Pace.