Colin Murtagh, Union President 2017
2017 Events Calendar
Jan 10, 2017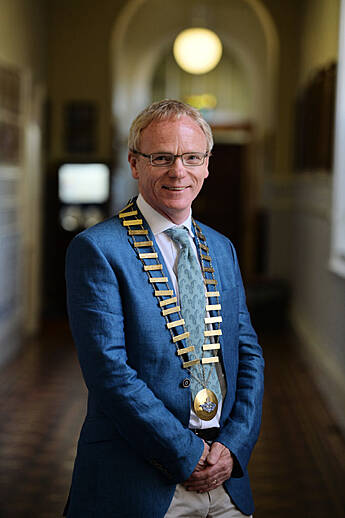 Colin Murtagh, class '83
Dear Pastmen and Honorary Members,
I am honoured to serve as President of your Union for 2017.
As the new year is now well upon us, I wish to outline the events planned for 2017.
First up is our premier social event, the Business Lunch on Friday 31st March. Once again we return to the Ballsbridge Hotel who did us proud last year entertaining 356 past men to lunch. We hope to match and exceed that number so will be looking to all year groups taking a table for 10, so please save the date.
We are also conscious that the centenary of the founding of the Union Golf Society is nearly upon us, and so we have two summer golf outings planned; 15th June we play for the Presidents Cup at Milltown Golf Club and 16th July the Keogh Cup is the top prize at Carton House. Continuing the sporting theme, the soccer blitz and doubles tennis tournament will also be held in the month of June.
The Good Friday Retreat and other events are pencilled in as per the provisional calendar outlined below and more details will follow closer to the time.
I also wanted to touch on the subject of College Scholarships.
We have thought long and hard about how to allocate Union surplus income, i.e. your subs, as pastmen are more than capable of making their own charitable donations and so the Union adds little value here. College Scholarships however is something most would struggle to support individually but collectively we would make a big difference, in enabling students who otherwise could not afford it, to secure an education that affords them a great start in life.
As a result in 2017 we plan to launch a subs drive focused on funding Union Scholars at the College. I will be leaning on my own year to finance a '83 scholarship and am hopeful many more of us will grasp this as an opportunity to make a significant difference at our alma mater. Your consideration when this initiative is rolled out would be greatly appreciated.
Finally, any of you with a 19X7 final year at Knock have a reunion this year and the Union can help on class contact details and hosting of event notices and subsequent galleries. So if an organiser of a 2017 reunion, please feel free to get in touch.
I look forward to meeting and chatting with many of you in the year ahead.
My very best regards,
Colin
---
2017 UNION EVENT CALENDAR
31 Mar
Business Lunch, Ballsbridge Hotel
14 Apr
Good Friday Retreat, College
26 Apr
Union Debate, College
28 May
Union Day, College
15 Jun
Golf, Presidents Cup, Milltown Golf Club
24 Jun
5-A-SIDE Soccer Blitz, College
30 Jun
Doubles Tennis, Fitzwilliam L.T.C.
16 Jul
Golf, Keogh Cup, Carton House Golf Club
21 Sep
Networking Careers Evening, Dillon Eustace
14 Oct
Annual Dinner, Radisson Blu Royal Hotel, D8
9 Nov
WWI Commemoration, College
26 Nov
Pastmen Memorial Mass, College Chapel
5 Dec
AGM, College