Union Honorary Officers
1896 through to 2018
Dec 15, 2015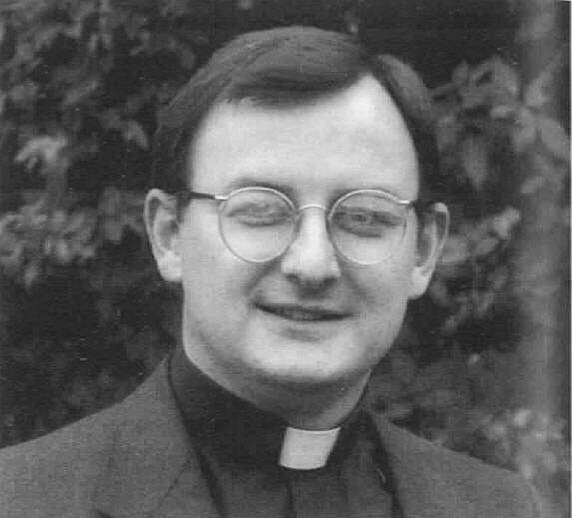 Paschal Scallon, '80, CM, the returned 'Vin' Hon. Sec
Two Presidents dominated the first years of the Union, Baron Russell the founding President who served for six years, and then Bishop Nicholas Donnelly who served for eighteen years until his death 29 March 1920. The Union by this point was struggling to engage with members, and to address this, it was decided that Presidents should serve shorter annual terms and longer terms would be the order of the day for the Honorary Treasurer and Honorary Secretary.
It must have worked for the system thus introduced is still in place some 100 years later.
HONORARY SECRETARY
---
At that time, it was also decided to formally split the Honorary Secretary role, with one chair held by a past man on the 'outside' and the other by a College resident 'Vin'. As listed below, many much loved Vincentian Fathers, all past men, held this latter role, but alas by 1996, Paschal Scallon, CM, was the last of the line - the well had run dry. Thereafter Betty Kealy stepped into the breach for one year followed by Rita Coyle for the next nineteen years, and on her retirement, we were indeed fortunate that Paschal had returned to the College and so once again reclaimed the role for the Vins.
The 'outsider' chair since 1922 saw Bernard Muntz and Michael Dunne between them account for the first 27 years and Noel Burke, Raymond Carroll and Thomas O'Reilly accounted for the next 31 years; Mark Peters then popped in for 5 years with the 70's troika of John Loughran, John Gallagher and Paul MacQuillan covered the following 10 years; the '84 double act of Fintan Cooney & Jim Connolly took the next 5 years followed by John Hennessy for 3 years; Michael Veale was next up and after three years, he moved across as emergency Honorary Treasurer cover so Michael McDermott stepped up for five years and then Johnny Lynch for the six years, at which point Cian McGoldrick was duly elected as the twenty-second Union Hon Sec.
 
JOINT HONORARY SECRETARY
"insider"
term
"outsider"
Paschal Scallon, '80, CM,
2017   - 
2018   - 
Cian McGoldrick, '14
Rita Coyle, Mrs,
1997-'16
 
2011-'17
Johnny Lynch, '93
Betty Kealy, Mrs,
1996-'97
 
2006-'11
Michael McDermott, '70
Paschal Scallon, '80, CM,
1993-'96
 
2003-'06
Michael Veale, '88
Denis O'Donovan, '59, CM,
1988-'93
 
2000-'03
John Hennessy, '75
Frank Maher, '47, CM,
1980-'88
 
1997-'00
Jim Connolly, '84
James O'Flynn, '51, CM,
1977-'80
 
1995-'97
Fintan Cooney, '84
Maurice Carbery, '25, CM,
1959-'77
 
1989-'95
Paul MacQuillan, '71, (p*)
Thomas O'Flynn, '35, CM,
1949-'59
 
1987-'89
John Gallagher, '77
T. Cashin, '32, CM,
1948-'49
 
1985-'87
John Loughran, '73, (p*)
Killian Kehoe, '25, CM,
1945-'48
 
1980-'85
Mark J. Peters, '78
Michael.C. Doyle, '21, CM,
1938-'45
 
1964-'80
Thomas J. O'Reilly, '60, (p*)
W. Meagher, '17, CM,
1937-'38
 
1954-'64
Raymond Carroll, '44, (p*)
John K. Murphy,'15, CM,
1931-'37
 
1949-'54
Noel J. Burke, '36, (p*)
Thomas K. Donovan, '13, CM,
1926-'31
 
1935-'49
Michael J. Dunne, '24, (p*)
Henry O'Connor, '05, CM,
1922-'26
 
1922-'35
Bernard C. Muntz, '95, (p*)
(p*) subsequently also served as Union President
1896-1922
Vincent McCarthy, '03, CM
 
Joseph Quinn, '53
Joseph Sheehy, '84, CM
 
Francis McDermott, '12
Michael Gorman, '92, CM
 
Joseph F. Delaney, '90
Richard Creagh Bodkin, '63, CM
 
Edward J. Kelly, '00
Paul Cullen, '84, CM
 
Michael Chartres.McInerny, '62
Martin J. Whitty, '78, CM
 
Stephen R. Cunningham, '73
HONORARY TREASURER
---
As part of that reorganisation, Honorary Treasurer which previously was a joint role, was merged so as held by one office holder. Many captains of industry have since held that role as listed below but perhaps the most poignant feature is that four never had that chance, for David Mongey, Peter O'Neill, Karl Toland and Peter Cunningham all died well before their time.
David Mongey, class '77, came to us from Monkstown in Dublin but was of a noted Mayo line as the son of Eamon Mongey, the Mayo All-Ireland winner. David was not yet 50 when taken 16 Sep 2006. He is survived by his brother Peter, class '79.
Peter O'Neill, class '86, was the youngest of three sons of William (Boldy) O'Neill, class '47. His banking career was taking off in the Caymans when illness unexpectedly struck. He died 23 Jun 2006 and was survived by his mother, sisters and brother Dave, class '85. The eldest brother Bill, class '80 had predeceased him in 1988. The family to commemorate the passing of Boldy donated the William O'Neill Cup which is awarded each year to that student who makes a noted contribution to College life. In our mind that cup now commemorates three O'Neill past men from Mount Merrion.
Any who attended the College in the 70's or 80's will know of Karl Toland, class '81 who was a legend in his own life time. Karl lost a leg to the illness whilst in College but overcame that and then returned to be married in the College Chapel and lived to see his son Sam born. He died 30 Dec 1992. He was only 29 and was survived by his wife Leonie, son Sam, parents and his brothers Andrew, class '84 and Simon, class '88.
Peter Cunningham, class '73 and his brother John, class '75, came to us from Dartry, and it was only then that their hereditary heart problem was diagnosed. 20 Nov 1975 John was the first to be taken, aged just 18. Peter survived  to qualify as an accountant and was in partnership with fellow past man, John Loughran, class '73, when 8 Dec 1983 the illness then took him. He was 28. Their parents Des and Mary donated the Cunningham Plate to the College in memory of their sons. It has been awarded every year since to the best business student.
HONORARY TREASURER
 
term
name, class of
2018    -    
Ian Garrigan, '09
2014-2017
Aidan Feighery, '72
2009-2014
Cormac Nagle, '68
2006-2009
Michael Veale, '88
2002-2006
David Mongey, '77
2000-2002
Patrick Cooney, '94
1995-2000
Lorcan Tiernan, '88, (p*)
1994-1995
Paul Kerr, '89
1992-1994
Peter O'Neill, '86
1991-1992
Karl Toland, '81
1985-1991
Declan McGinley, '71
1983-1985
Mannix MacKenna, '71, (p*)
1980-1983
Peter Cunningham, '73
1974-1980
Timothy Hughes, '67
1968-1974
Paddy Shortall, '56, (p*)
1962-1968
Philip O'Donoghue, '51
1956-1962
Niall Crowley, '44, (p*)
1949-1956
Martin J. Winston, '41, (p*)
1948-1949
Noel J. Burke, '36 (p*)
1936-1948
Thomas A. O'Reilly, '25, (p*)
1925-1936
Daniel C. Maher, '99
1922-1925
William J. Tunney, '93, (p*)
(p*) subsequently also served as Union President
1896-1922
"
John J. Hickey, '00
"
Peter Nugent, '94
"
John J. Cummins, '99
"
Patrick J. Brady, '85
"
William R. Nolan, '82